Eddy Current Inspection (EddySonic-EC)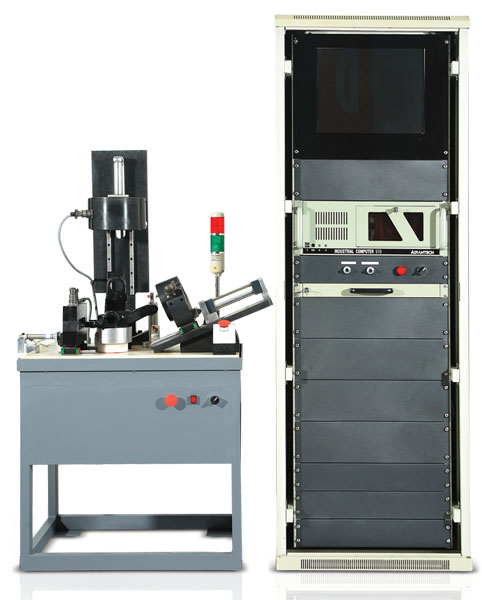 Description
EddySonic-EC is a high-performance, easy to use, and economical Eddy Current tester that offers 100% inspection of parts. EddySonic-EC can be used to test components for properties such as hardness, case depth, temper, alloy, material mix, presence of internal stresses, machinability and dimensions.
EddySonic-EC principle of operation is based on multi-frequency analysis of harmonics and phases. During calibration or learning, a database of reference parts including good and different defective parts is made. Typically, the database can be set up with 100 to 500 good parts from different production batches. Various defective parts can be optionally included in the database.
EddySonic-EC it has the capability of real-time and simultaneous monitoring of multi-channels at multi-frequencies.
Multi-channel testing allows local inspection of large parts as well as differential inspection of pipes and cylinders to detect non-uniformities.
Simultaneous multi-frequency testing applies a synthesized wide band signal (superposition of multiple frequencies) to the coil. Hence, the test is much faster than traditional sequential testing of single-tone frequencies.
Real-time testing allows scanning or continuous inspection of parts such as tubes and bars, while the eddy current probe or coil is moved into or over the part. More…
A large variety of data viewing tools are available to compare the test results of a new part with the statistical features of the reference parts in the database.
Applications
Hardness testing of ferrous materials and alloys
Heat treatment verification such as surface hardness and case depth
Evaluation of material integrity, strength, and chemical composition
Machinability assessment
Dimensions and thickness measurement
Real time scanning of tubes and bars
Features
Simultaneous multi-frequency testing at 2 channels
High speed and real time test report and visualization every 50 ms
Advanced data modeling and statistical methods for grouping of parts
Integratable with Acoustic Resonant Inspection system (EddySonic-ARI)
Possibility to calibrate with only OK parts
Temperature compensation of results using infrared thermometer
Dust-proof and weather resistant enclosure
I/O control signals for automation
Easy to use and user friendly Windows-based interface
Report generation, including statistical analysis
Specifications
Test Frequencies         : 10 test frequencies ranging from 16Hz to 6kHz
Amplifier gain             : Automatic and manual adjustable gain in 100 steps
Coil channels               : 2, option up to 4 channels
Power input                 :120/240VAC, 50/60Hz